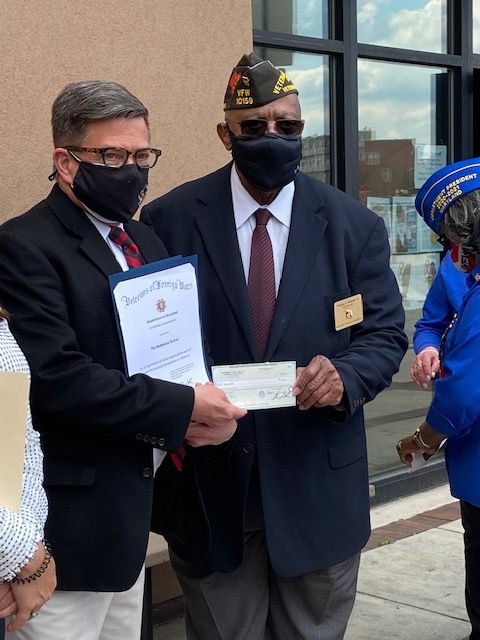 April was the month of Veterans Helping Veterans in Baltimore city as the Department of Maryland Veterans of Foreign Wars and its Auxiliary collaborated to support The Baltimore Station, a veterans' homeless shelter and substance abuse treatment center, with both in-kind and monetary donations. On April 15, 2021, the momentous joint effort presented The Baltimore Station with toiletries, essentials to help the organization aid more veterans, and a generous monetary donation of over $15,000.
Living up to its motto "No One Does More for Veterans," the Department of Maryland VFW and its Auxiliary answered the call of community service for Veterans in the Baltimore area, especially while the Covid-19 Pandemic is still affecting lives daily. This project certified by Department Commander Thomas Rippon and President Felicia Weeks, will aid The Baltimore Station in fulfilling their mission to "Turn lives around through an innovative therapeutic residential and outpatient treatment program" and will help veterans in the Baltimore city area who are overcoming obstacles to regain self-sufficiency. To learn more about The Baltimore Station and how to get involved, visit their
website
.
Representatives of both the Department of Maryland VFW and the Auxiliary were present at the donation presentation and are pictured below. To support the VFW in the continuation of their Veteran's service efforts click
HERE
. To join a local VFW Post, click
HERE
.